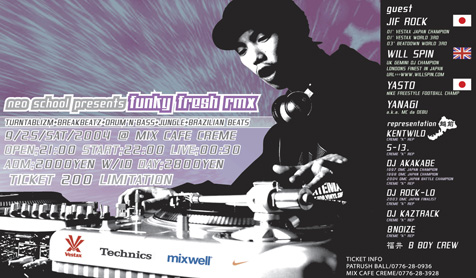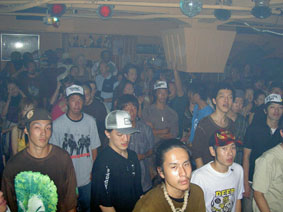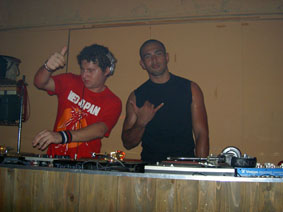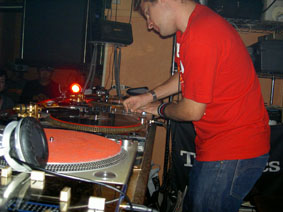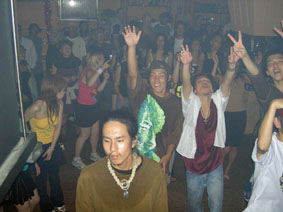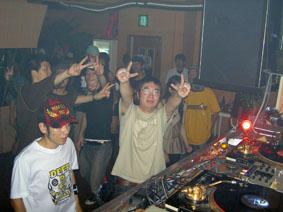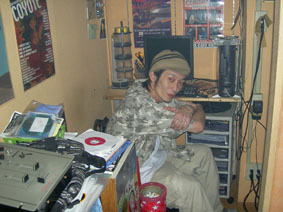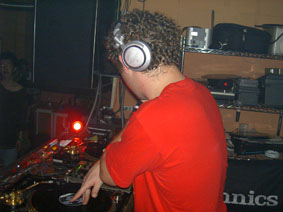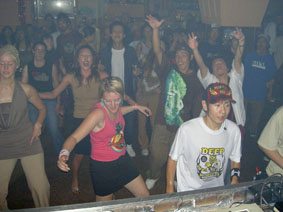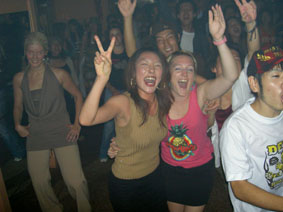 Funky Fresh Remix was absolutely ballistic. The promoters at Creme had aimed high and secured an incredibly varied lineup in order to satisfy allcomers and boy, did they satisfy! 8 DJs including Technics, Vestax and Gemini champions, a breakdance crew and an athelete with incredible soccer skills were all on form to impress and entertain the crowd.
8noize represented Creme and destroyed the venue with a Breakbeat/drum and bass mash up.
This was followed by Yasto, Nike freestyle football champion who performed an amazing soccer skill routine with a bizarre Japanese comedy partner!
DJ Akakabe, recent Technics World Champion (congratulations, ya bai!) put together a little routine to show his homeboys just why he is world champion. Akakabe has some crazy turtablist skills and such speed that left the crowd in shock.

Feeling the pressure but putting on another amazing display was Jif Rock, from Tokyo. A little more traditional than Akakabe and crowd friendly... his scratch/beat juggling routine was frenzied but precise, fitting for a Vestax world champ.

Finally Will Spin was unleashed to finish off the mayhem with a 2 hour set. Taking no prisoners he stormed straight in with a heavy hitting drum and bass set designed to do damage. After a small period of more relaxed tunes it was back to the grindstone with some more badass beats and bass. 2 hours and 55! records later it was time to call it a day and finally get some sleep!
Saturday 25th September at Creme, Fukui, Japan.
Back on home turf. Will Spin has secured a 2 hour set from 01:00 to 03:00. This night also features Jif Rock- a Vestax champion from Tokyo and Yasto- Japanese soccer champion who will be demonstrating his "lifting" skills- this doesn't mean he'll be stealing anything though.
Local support will be provided by DJ Akakabe- 3 times DMC Japan champion and 8Noize.
Doors open at 21:00 and it all starts kicking off after about 23:00.
Tickets are 2000yen a pop and include a free drink. Door price is 2800 with no drink.
Email to book tickets will@willspin.com.
This night will smash so don't miss it!
This is the bottom of the page. Designed by Fastlane Design.