Home >Events> Gemini DJ Competition
Gemini DJ Competition, Nottingham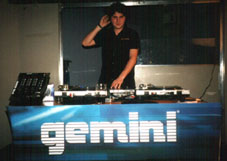 Gemini DJ Competition The prestigious title of Gemini University DJ Champion of Nottingham was up for grabs so I sent in my tape hoping to be one of the eight that would make the first heat at the Trent student union.A week later I received a phone call from the organisers saying that I had made the grade and shall compete in the Trent heat. From a total of 300 tapes they had narrowed the field down to eight.
The first heat went well. I played a well constructed set with good use of samples I think it was this that swayed the judges and I was awarded second place, winning a £100 mixer and having the chance to represent my University in the final. The final was a nerve-wracking affair with a lot of pressure.
The University of Nottingham had considerably more support and to make matters worse I was the the only DJ that didn't didn't play hip-hop. I was also the only DJ that didn't scratch which made it very difficult to compete effectively in the allocated 15 minute set. Quality beat mixing, set construction and sampling can only be achieved in an extended set. I tried my best but was beaten by the swift fingers of DJ Juice, a fellow Trent student. DJ Juice was amazingly dexterous on the turntables and was by far the best competitor with the most technical skills. He went head to head with DJ Gunsmoke from the University in an epic battle for the title, a top of the range mixer and a residency at a local club. Although Gunsmoke took more risks and played a more varied set, Juice's skill showed through and he won the competition. Although I didn't win the competition I was a runner up and it was a good experience that proves my skills and records are appreciated.
This is the bottom of the page. Designed by Fastlane Design.