Home >Stuff
The Top Ten section that lingered here before was boring, a pain to update and pointless. So we've ditched it.
We have decided to fill the space with something more interesting instead!.
Recently Drum and Bass has turned a bit serious...strange considering going out at the weekend is meant to be a fun way to wind down.
Let's keep raving fun!




Will Spin on the worlds largest decks! Big up!
Movie snippet of Will doing some weird stuff at home...will at home in Japan

SPINCYCLE FORUM ONLINE!
Click here to enter the forum.
Spincycle is the interactive section of Willspin.com. Feel free to leave a message, join or become a Spincycle regular!








Competition

Win an awesome Spin Wheel yo-yo


Click here to enter the Competition or click here for something much more exciting....

Andy C Interview now online!
Thanks to Terumi from Kansai Scene Will Spin interviewed Andy C at Triangle, Osaka.
Click here to check out the interview with one of the worlds finest DJs.
Click here to listen to the latest Creme Live mix featuring new star MC Aoi.
Click here to read the article "Breakbeat and Enter" by music journalist Sam Baldwin.
Click here to read an interview with Will Spin in Japanese with Hokuriko Party Info. Scroll down the page.
Click here to listen to the radio interview with Will on FM Fukui.

RIDDEN See pictures from the June 2005 event
RIDE has come to an end. Fukui's first and only entirely Drum and Bass event has finished.
The RIDE concept was developed by DJ 8Noize, who was brave enough to risk trying something other than Hip Hop and Reggae in Fukui's coolest club. He booked some major players in the Japanese D and B community and introduced us to up and coming DJs like Mar and Katsukura.
Despite success the night was not generating as much income as Creme's bread and butter: Reggae and Hip Hop. Some of the events were very busy others were a bit quiet, this combined with Will Spin moving to Osaka meant that in December 2006 RIDE was killed off, just before it's first birthday. Don't worry though, this does not mean the end of D and B in Fukui... Creme is about to launch a new D and B event that will happen less regularly...coming soon!
2005 saw 8 Ride events. All were slammers. Go to the events page to check out RIDE photo's.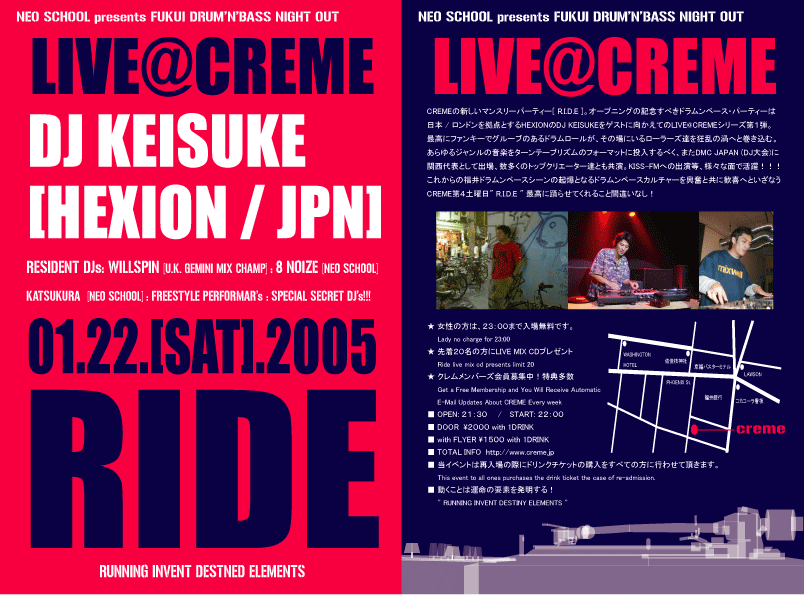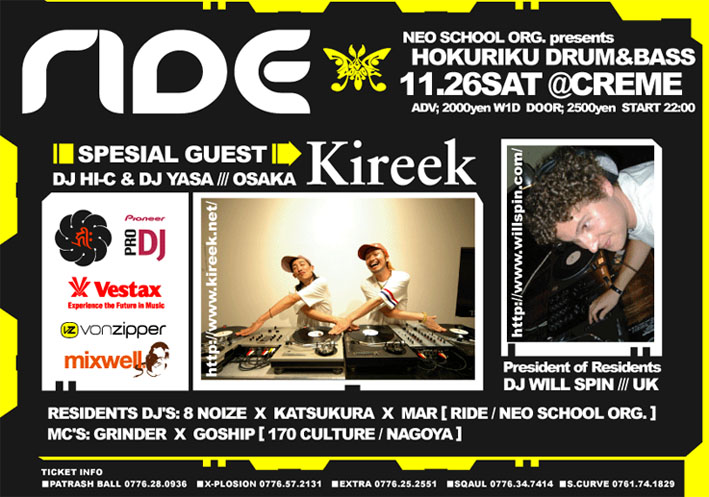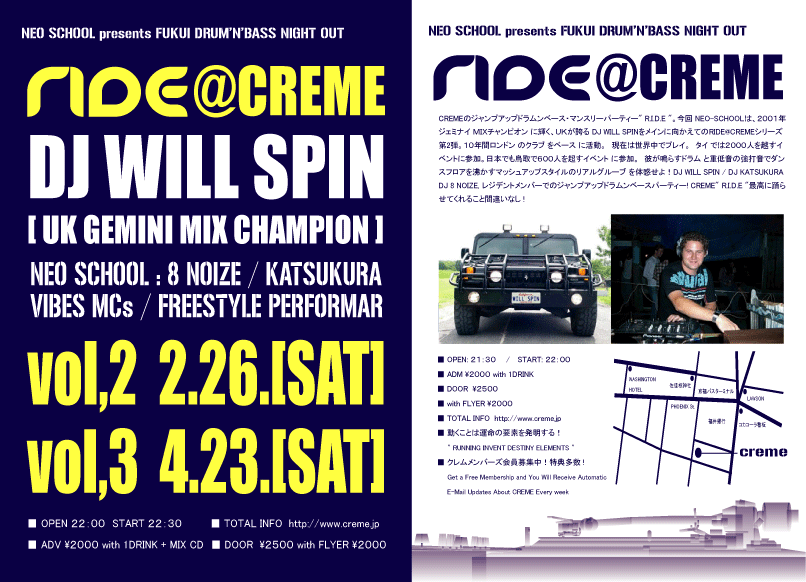 Some feedback:
"Will Spin, bigger than Mt. Fuji." -Sam "Badass" Baldwin

"Yaa bai"- DJ 8Noize

"Your spin was very cool" -Takeshi

"Kick ass party the other night . Fucking fantastic. Lovin all the dNb shit all the way. A little heavier is good too, like the crazy dark industro german shit, but I mad dig yours too." -Ben Wiley "Coyote"
"(X Ray mix on Rinse Out) sounds amazin! look forward to 'earin ya next mix!!!" -Andy

"Nice work last Saturday. Well done my friend! I forgot how much I like good DnB." Shawn
"Will Spin did a set that blew me away. This guy fucking works! He mixes shit up in a hurry and it is TIGHT." James

This is the bottom of the page. Designed by Fastlane Design.